| | |
| --- | --- |
| Housing Market Trends & Preferences | |
Special Studies February 5, 2018
By Rose Quint
NAHB Economics and Housing Policy Group
Report available to the public as a courtesy of HousingEconomics.com
NAHB regularly conducts national polls of American adults and home buyers in order to understand new trends and preferences in the housing market. The findings are typically revealed during NAHB's annual convention – the International Builders' Show (IBS). This paper will cover topics and trends presented during the 2018 IBS, such as attitudes toward tiny homes and driverless cars. Results are based on national polls conducted by Morning Consult in the second half of 2017. The samples used to conduct this research are representative of the US population in terms of age, income, and region of the country.
Tiny Homes Might Have Potential Buyers
Potential demand from first-time buyers has made the concept of a tiny home a frequent topic of discussion in real estate news. In a recent poll, NAHB asked a representative sample of adults if they would even consider the possibility of buying a tiny home now or at some point in the future. A tiny home in this project was defined as one with less than 600 square feet
A bit surprisingly, a majority of respondents (53%) said 'yes' or 'maybe' to the prospect of buying such a small home. This basically means that more than half of adults are at least willing to consider it at some point during their lifetimes (Figure 1). Yet not all generations feel the same way, with potential interest waning with age. While 63% of Millennials and 53% of GenXers might eventually consider living in such a small space, the feeling is shared by only 45% of Boomers and 29% of Seniors.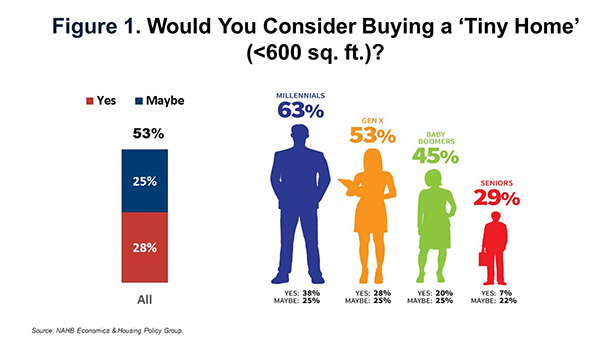 Prior to the 2018 International Residential Code (IRC), a tiny home on a permanent foundation was subject to all the same requirements applicable to any other house built under the IRC (e.g. a minimum 6' to 8' ceiling height and stairs to the loft with treads at least 12" deep, risers not more than 7-3/4" high, and a 36" width – all typically unmet by tiny homes). A new appendix (Appendix Q) in the 2018 IRC, however, allows for the relaxation of these requirements in tiny homes. The appendix can be adopted by any jurisdiction that wants to allow this type of homes to be constructed.
Tiny homes, however, may be inviable in many areas. Many local zoning laws have minimum lot size requirements, which would not prohibit tiny homes, but would make them very expensive considering the cost of land. In addition, many communities prohibit the construction of accessory structures, preventing existing home owners from adding them to their lots (although it should be noted that some communities have passed ordinances in recent months relaxing this restriction).
Driverless Cars Also Have Potential Market
Driverless cars are currently being developed and tested in the United States. These vehicles use GPS, radar, laser and other technologies to operate without direct human input. Some potential benefits may include reduced stress from driving, better traffic flow, and fewer traffic accidents, yet liability and safety concerns remain serious barriers to market adoption.
A recent poll found that 59% of adults in the US would at least consider the possibility of buying one of these cars if a safe and reliable model was developed in their lifetime. But the likelihood that someone would consider this transportation option declines with age: while 71% of Millennials and 66% of Gen Xers say they might consider buying a driverless car, the share drops to only 36% of Seniors (Figure 2).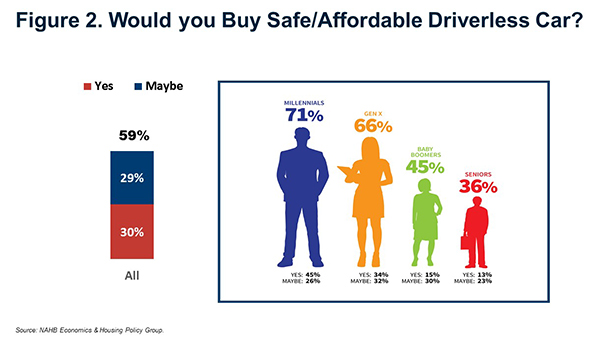 Among the possible connections between the development of driverless cars and housing is the location question, can these cars potentially impact where people choose to buy their homes? One recent poll found the answer to be yes. When those open to the idea of buying a driverless car were further asked if having one might encourage them to move further away from work, a significant share (63%) said 'yes' or 'maybe.' But as with other trends, younger people would be far more likely to be swayed: more than 60% of Millenials and GenXers say they might be encouraged to mover further, compared to only 18% of Seniors (Figure 3).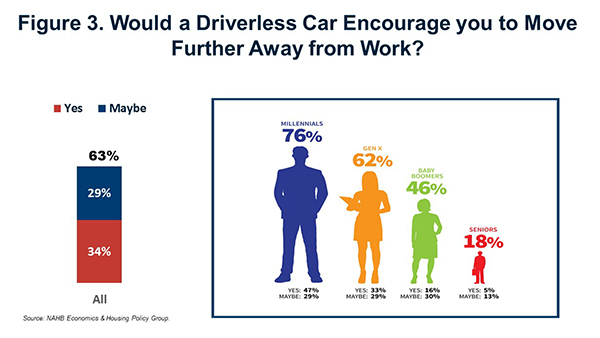 Most Buyers Actively Trying to Buy a Home Have Been Searching for 3 Months+
Another important finding in a recent poll is the length of time it is taking to look for a home to buy. When prospective buyers actively involved in the search for a new home were asked how long they have been looking, 61% said three months or longer. The other 39% have been looking for less than three months (Figure 4).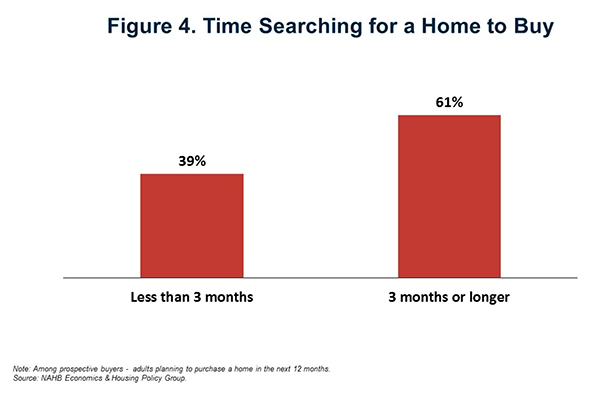 There are a number of reasons why those searching for three months or longer have been unable to pull the trigger and buy a home: 42% say it is because they can't find a home at an affordable price, 36% can't find a home with the features they want, 34% can't find a home in the neighborhood they want, and 27% have been able to overcome all those problems but then get outbid whenever they make an offer (Figure 5).
This result suggests there are several important reasons why prospective buyers actively searching for a home are being held back, but the most important one is lack of affordability—not being able to find a home at an affordable price.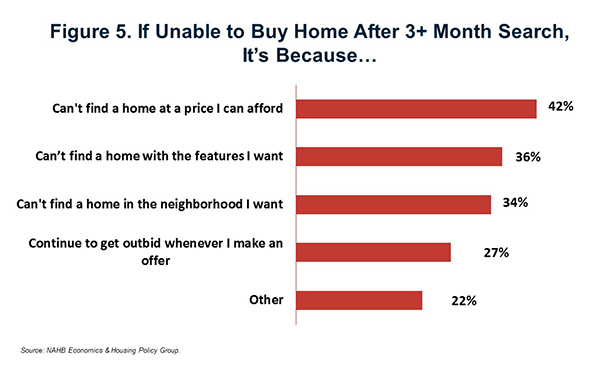 Home Features Buyers Consider Essential
Even though unaffordable prices are the primary culprit behind buyers' inability to find homes more quickly, a scarcity of homes with the desired set of features is also an important hindrance. A recent poll asked prospective buyers which features they consider to be essential in their next home. Results were calculated separately for first-time and second-time+ home buyers (those buying their second, third or more home).
More than 40% of first-time home buyers consider 10 features to be essential, starting with a living room, a laundry room, a dining room, garage storage, and a walk-in closet in the master bedroom. This short list also includes a front porch, a 2-car garage, and a double sink in the kitchen (Figure 6).
The list of essential features is a bit longer among second-time+ buyers. It contains many of the same items wanted by first-time buyers, plus a few more: a patio, table space for eating in the kitchen, hardwood floors in the main level, energy-star appliances, and granite countertops in the kitchen. Interestingly, the top two features are identical in both groups, although in reverse order: the laundry room and the living room.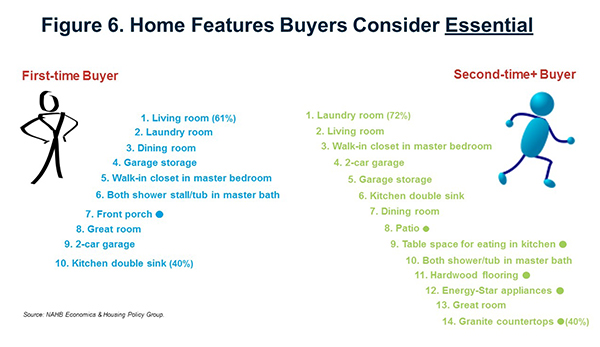 Reasons for Not Moving in 10+ Years
Currently, one of the most pressing issues in the housing market is the lack of inventory available for-sale. Part of the problem stems from the fact that existing homeowners are staying in their homes longer than they used to, and therefore keeping their homes off-the-market. A recent poll asked people living in their homes for 10 years or longer the reasons they have chosen to stay put for so long.
By far, the most important reason long-term residents are not moving is because they like their home and are comfortable in it (70%), followed by their lack of desire to go through the hassle/expense of finding another home and moving (21%). Meanwhile, 10% say it is because there are no homes on the market they would want to buy and could afford. This last finding suggests that a not-so-trivial 10% of people living in their homes for a decade or more could be enticed to move if only there were more homes on the market to choose from.
Of all the possible reasons long-term residents could choose from to explain their long stay, the three least important ones are: not wanting to give up a current low mortgage interest rate (5%), moving to a new job would require going to a more expensive area (4%), and the home is underwater (3%) (Figure 7). This suggests that a desire to keep a low mortgage rate is far from being the primary culprit for the reduced mobility seen in recent years (as is sometimes attributed).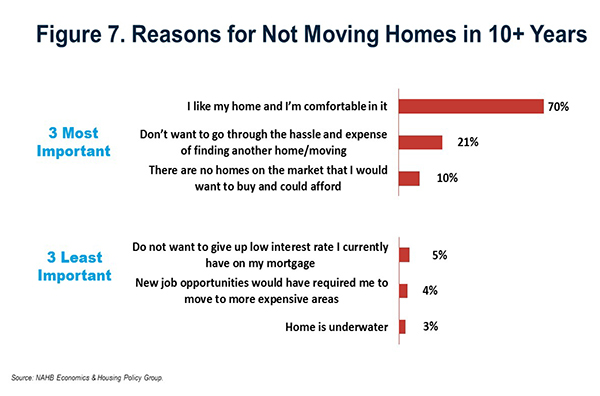 A Majority of Home Buyers Don't Expect Availability to Improve in 2018
A recent poll found that buyers' perceptions about the availability of homes for-sale in the near future are not particularly optimistic: 40% say that finding the right home will become harder in the months ahead, 25% say it won't change, and only 27% think it will get easier. Put differently, 65% of buyers don't expect the home search to get any easier in 2018 (Figure 8).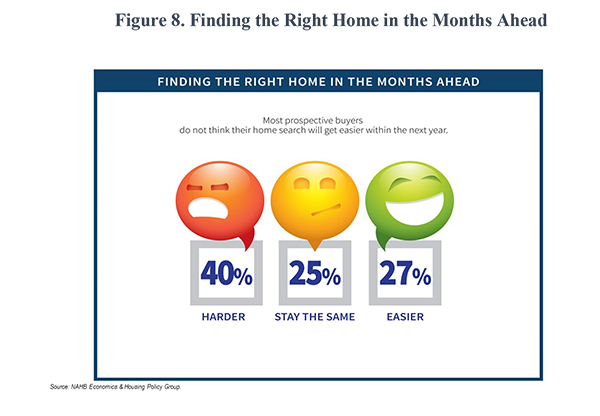 Further highlighting buyers' poor perceptions of housing availability, the majority don't see the number of homes on the market (compared to three months earlier) moving in the right direction: 35% see fewer homes (like the one they are looking for with desired features and price point), 23% see no change, and only 34% see more homes (Figure 9). In all then, 58% don't see the number of homes with the right features and price range increasing on the market. Nonetheless, being keenly aware of the housing inventory issues currently constraining the market is no deterrence to these buyers—they are determined to continue the search to buy a home in the next 12 months.