| | |
| --- | --- |
| Housing Preferences Across Generations | |
Special Studies March 1, 2016
By Rose Quint
NAHB Economics and Housing Policy Group
Report available to the public as a courtesy of HousingEconomics.com
NAHB recently released its latest study tracking the evolution of home buyer preferences, titled Housing Preferences of the Boomer Generation: How They Compare to Other Home Buyers. The study answers key questions on how various designs influence the home purchase decision as well as the location, features and size of the home consumers want. Findings are based on a nationwide survey undertaken by NAHB's Economics and Housing Policy Group in 2015.
The survey was conducted online in two phases, using a consumer research panel maintained by the Home Innovation Research Labs. The first phase used screening questions to identify recent home buyers (who purchased a home in the last three years) and prospective home buyers (those expecting to buy a home in the next three years). In the second phase, a detailed questionnaire was sent to buyers identified in phase one. The sample was carefully selected and weighted to be representative of the entire universe of home owners in the US, in terms of age, income, age, and racial/ethnic distribution.
The results published in the study and presented here are based on 4,326 responses. The data were analyzed for all home buyers in general and also across generations: Millennials (born 1980 or later), Gen X'ers (born 1965-1979), Baby Boomers (born 1946-1964), and Seniors (born 1945 or earlier).
Key findings:
The majority of buyers (65%) would like to buy a single-family detached home. A majority of buyers in all generations have the same preference: Millennials (68%), Gen X (72%), Boomers (63%), and Seniors (55%).
Buyers expect to pay about $220,000 for their next home. Of the four generations, Gen X'ers expect to pay the most: $231,600.
A traditional forward mortgage is how most buyers across generations (67%) would choose to pay for a home.
Buyers want a home with a median 2,020 square feet of finished area, about 9 percent larger than they have now. Millennials and Gen X'ers want over 2,300 square feet; Boomers and Seniors less than 1,900 square feet.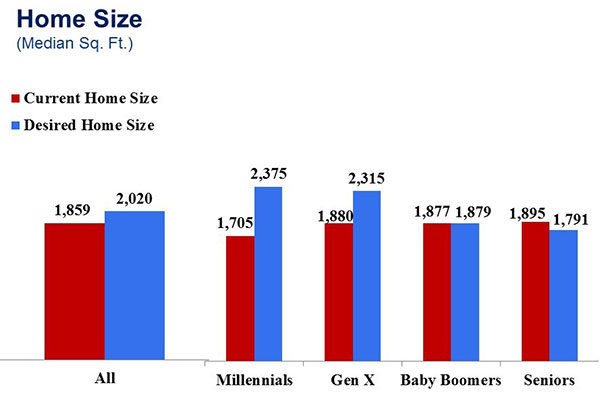 Most home buyers (64%) would like a single-story home, but preference rises with age: Millennials (35%), Gen X'ers (49%), Boomers (75%), and Seniors (88%).
A majority of all buyers (68%) want the washer and dryer on the first floor of the home.
58% of home buyers want a full or partial basement, but the preference declines with age: from 77% of Millennials to 43% of Seniors.
About half of all buyers want a home with three bedrooms, but 30% want at least four. Over 40% of Millennials and Gen X'ers want the latter, compared to only 20% of Boomers and Seniors.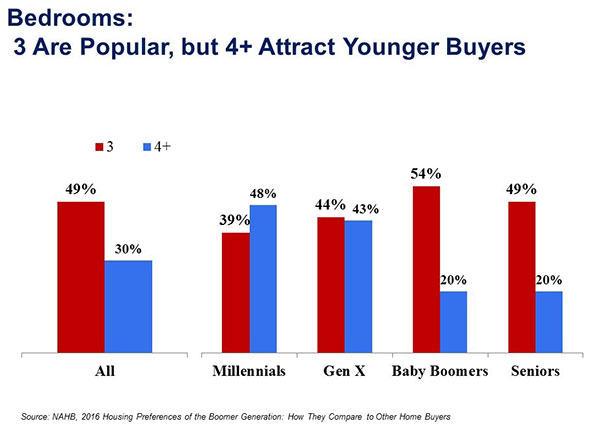 Of more than 150 home and community features rated as 'essential/must have,' 'desirable,' 'indifferent,' or 'do not want,'13 are wanted (i.e. rated essential or desirable) by 80 percent or more of home buyers. This "Most Wanted" list shows buyers remain focused on features that will help them save energy and keep the home organized. ENERGY STAR® appliances and windows, insulation higher than required by code, a laundry room, garage storage, and a walk-in pantry are features the vast majority of buyers want. Also very influential in most buyers' purchase decision are exterior lighting, a patio, a full bath on the main level, and hardwood on the main level of the home.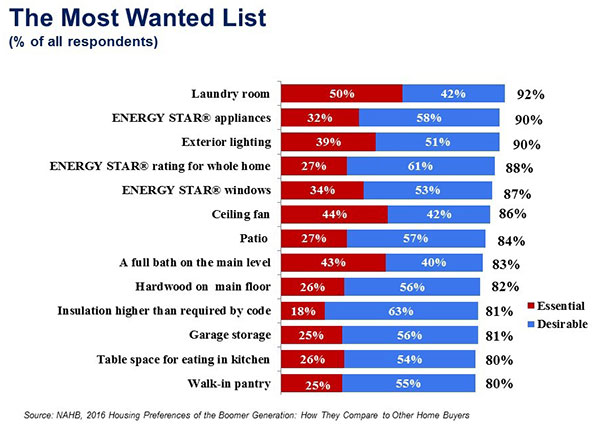 In the kitchen, about 80 percent of buyers consider a double sink, table space for eating, and a walk-in pantry essential or desirable.
Two bathroom features are wanted by at least three-quarters of all buyers: having both a shower and a tub as well as a linen closet in the master bath.
The top three most wanted types of windows are ENERGY STAR®, triple-pane, and low-e.
The two most popular exterior material for the front side of the home are brick and stone, as roughly 70% of buyers rated them essential/desirable.
There are some similarities and some differences in the "Most Wanted List" across generations. For example, the laundry room is key to all home buyers, ranking as the first most wanted feature among Millennials, Gen X'ers, and Seniors, and third among Boomers. Exterior lighting and ceiling fans are also important to all buyers, appearing on the top list of all generations. Interestingly, Energy Star® rated appliances are popular among all groups, but Millennials rank it as 10th most wanted, whereas Gen X'ers, Boomers, and Seniors rank it first or second.
Millennials are the only generation to have three outdoor spaces in their "most wanted list": a deck, a patio, and a front porch. The deck does not appear in the top list for the other three generations, while the front porch falls out of the top 10 for Boomers and Seniors.
Unlike Millennials, Gen X'ers, Boomers, and Seniors also place an Energy Star® rating for the whole home and for the windows on their most wanted lists.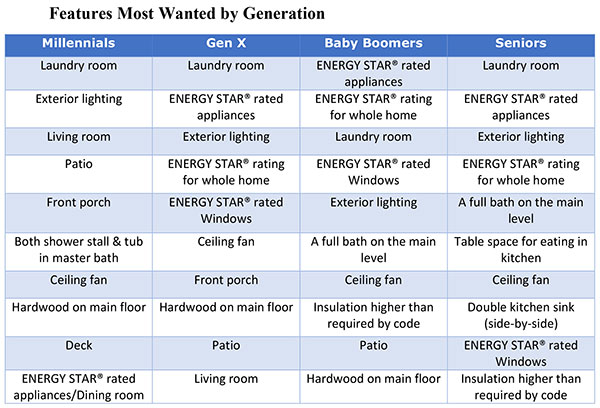 Understanding what features are best not to include in a typical home is also critical. In all, 12 of the 150+ features were rated as 'do not want' (i.e. not likely to buy a home if feature is included) by more than 40% of all buyers, led by an elevator, a pet washing station, and a wine cellar.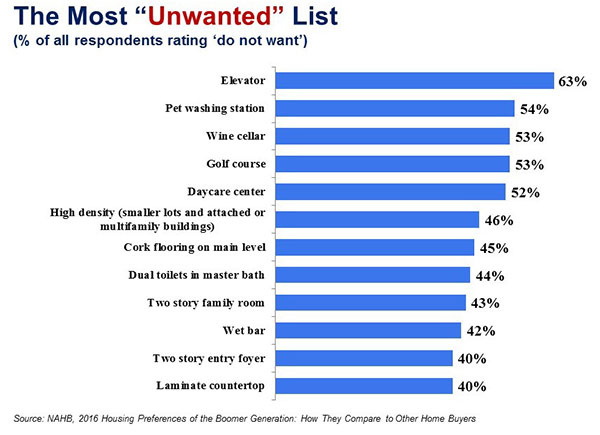 The elevator is unpopular with all generations. In fact all, except Seniors, rate it as the most unwanted of all home features. For the oldest cohort, it is third on that list, after a daycare center and a pet washing station. Other features rejected by a significant share of buyers in all age groups include a golf course community, cork flooring on the main level, a wine cellar, and the pet washing station.
A high density community (smaller lots and/or multifamily/attached buildings) also appears in the top 10 most unwanted lists for Millennials, Gen X'ers, and Baby Boomers. Seniors are more likely to reject baseball or soccer fields instead.
Interestingly, two story foyers and family rooms are more likely to be rejected by older buyers than younger ones: both of these features appear on the most unwanted lists for Boomers and Seniors, but not for Millennials or Gen X'ers.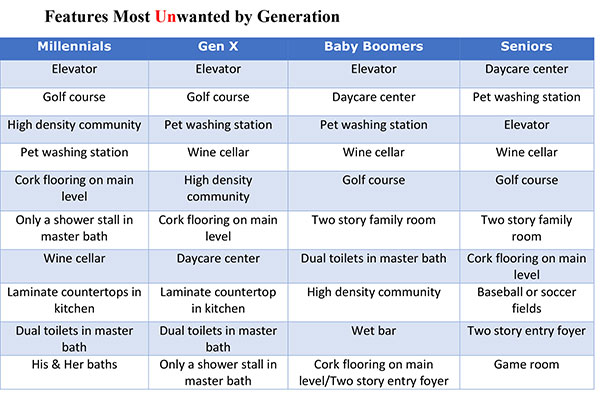 Except for programmable thermostats, few buyers currently have the home technology features many of them desire. A wireless home security system, for example, is something more than 50 percent of buyers would like to have, but fewer than 20 percent currently do. There are similar gaps between desire and reality for security cameras and energy management systems, among other features.
37% of home buyers say they would be willing to buy a home without a living room, but the share declines with age, from 43% of Millennials to 26% of Seniors.
Only 14% of buyers are willing to pay more for a home out of pure concern for the environment.
However, home buyers will pay more for a home if they can get lower utility costs in return. On average, they will pay an additional $10,732 up front to save $1,000 a year in utilities.
Of 19 community features home buyers were asked about, a typical suburban neighborhood with only single-family detached homes was the most wanted, rated essential/desirable by 72%. Over 50% would be positively influenced by the presence of a park area, being near retail space, walking/jogging trials, and a lake.
The buyer's spouse/partner is the most influential person on the selection of a specific home, as well as on the location, timing and method of financing.
Additional Information about the Study
The complete study discusses the results in more detail, including many more features and designs not addressed in this paper. An extensive section of tables shows how home buyers answered every question, along with a detailed breakdown for Millennials, Gen X'ers, Baby Boomers, and Seniors.