Home Operating Costs
Housing Policy, February 8, 2005
by Yingchun Liu, Ph.D.
Introduction
The costs of operating a home — utilities, maintenance, property taxes, and insurance — are likely to vary with the age of the home. Changes in building codes, which now often address energy efficiency, may lead to lower fuel costs for newer homes while maintenance costs tend to rise as a home ages. The American Housing Survey (AHS), conducted in odd-numbered years by the Census Bureau for the Department of Housing and Urban Development (HUD), collects extensive data on each home in the survey, including considerably detailed data on operating costs.
The 2003 AHS data show that, when measured either per square foot or per dollar of house value, operating costs tend to be lower for newer homes. Thus, if annual costs incurred during the first few years of ownership are the constraint, a household could afford to purchase a home with a somewhat higher initial price, provided the home is newer.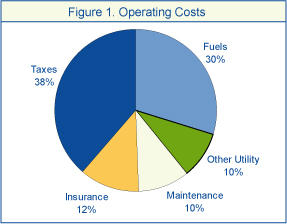 Total Operating Cost
Analysis of the most recent (2003) AHS shows that total operating cost per house at that time averaged $5,464 per year. Among the various categories of operating expenses, about 38 percent was property tax expense, followed by fuel cost (30 percent), and insurance (12 percent). Maintenance and other utilities (including water, sewer, trash removal, and home owner association fees) each accounted for about 10 percent of the total (Figure 1).
A previous article looked at those costs in 1995 [1]. After correcting for inflation, total operating costs increased 7 percent between 1995 and 2003 (Figure 2). The cost of insurance increased 18 percent over that time, the largest increase among the major components of operating expenses, although property taxes were a close second at 17 percent. Other utility costs increased 8 percent, and maintenance increased 1 percent.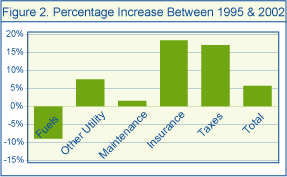 Fuel cost actually declined by 9 percent in real terms. Since fuel prices increased by more than 20 percent over the eight years; this implies that households decreased their fuel use which is consistent with the notion that households are switching into more energy efficient technology.

Table 1 shows total annual operating costs in 2003 for owner-occupied, single-family detached housing by year the structure was built. The total costs per house are highest for homes built in the 90's. Since newly-built homes have grown in size for several decades, newer homes are generally larger and more elaborate. When measured per square foot of living space, operating costs are consistently lower for newer homes. Costs also fall as a share of property value for newer homes.

Utilities
Table 1. Year Built

Before
1970

1970-1979

1980-1989

1990-1999

After 1999

All

Cost per House

Fuels

1,648

1,619

1,613

1,574

1,549

1,625

Other utilities

444

505

615

673

709

521

Maintenance

573

594

664

453

235

558

Insurance

602

657

729

734

736

654

Taxes

1,878

1,908

2,394

2,719

2,703

2,105

Total

5,144

5,283

6,016

6,153

5,931

5,464

Cost per Square Foot

Fuels

1.03

0.88

0.81

0.72

0.66

0.92

Other utilities

0.28

0.28

0.32

0.30

0.31

0.29

Maintenance

0.36

0.31

0.32

0.20

0.09

0.31

Insurance

0.37

0.34

0.35

0.33

0.30

0.35

Taxes

1.09

0.94

1.10

1.15

1.02

1.06

Total

3.13

2.75

2.90

2.70

2.38

2.94

Cost as a Percent of Value

Fuels

1.45%

1.17%

0.96%

0.79%

0.72%

1.20%

Other utilities

0.40%

0.36%

0.36%

0.31%

0.32%

0.37%

Maintenance

0.47%

0.41%

0.38%

0.21%

0.10%

0.39%

Insurance

0.45%

0.43%

0.40%

0.34%

0.31%

0.42%

Taxes

1.19%

1.08%

1.17%

1.14%

1.08%

1.15%

Total

3.95%

3.44%

3.27%

2.80%

2.53%

3.53%
Source: NAHB calculations based on data from the 2003 American Housing Survey (AHS), U.S. Census Bureau. All numbers are averages. Because the AHS truncates values reported by the respondents with the highest expenditures, the average costs per home will be understated. Cases with truncated costs or unit size were excluded in calculations of costs per square foot. Cases with truncated costs or value were excluded from the calculation of costs as a percent of value. Also deleted are cases where the AHS imputed values to unanswered questions for any of the variables used in the calculations.
Table 1 also shows the major components of operating costs. On average, fuel expenses were second only to property taxes at $1,625 per house, while expenses for other utilities averaged $521. Fuel costs fall modestly with the age of the structure, while the cost of other utilities is considerably higher for newer homes. Non-fuel utility cost increases from $444 for homes built before 1970 to $709 for home built after 1999.
In order to control for differences in home size, Table 1 also shows operating costs per square foot of living area. On this basis, fuel costs are substantially lower for newer homes. Expenses for other utilities are still higher for newer homes, but the trend is much more gradual. Measured as a fraction of a home's value, the costs of both fuel and other utilities decline as the vintage becomes more recent. This is most significant for fuels, where average annual costs fall from 1.03 percent of value for homes built before 1970 to 0.66 percent for homes built after 1999.
Per dollar of value, energy costs will tend to be lower for newer homes simply because newer homes tend to have higher values. Some of the reasons for that, such as higher quality countertops or the location in which they're built, have nothing to do with energy consumption. Others, such as increased floor space or higher ceilings, would actually lead to more energy consumption all else equal. On the other hand, it is likely that newly-built homes have become more energy-efficient over time, due to changes in building practices, standards for appliances, and other factors.
Energy consumption is also related to lifestyle and family size. A further look at the fuel cost per person shows a similar trend toward lower costs for newer homes. Costs per person decreases from $811 for homes built before 1970 to $606 for homes built after 1999.
Maintenance
Routine maintenance and repairs includes items such as painting, fixing water pipes, replacing parts of major equipment such as furnaces, repairing fences, pest control, and other expenses necessary for the preventive care of property and fixed equipment.
Where differences in energy costs are likely to reflect the types of materials and equipment in the home, maintenance expenses are more likely to simply grow as a home ages, regardless of when it was built. For that reason, it's no surprise that the newer homes have the lowest maintenance costs whether measured per house, per square foot, or as a percent of value.
Taxes and Insurance
Overall, owners of newer homes clearly pay less per dollar of value for taxes. Moreover, owners of newer homes also pay less per dollar of value for insurance. Reasons for the lower tax rates associated with new construction were discussed in a previous article [2]. They include a concentration of new construction in low-tax jurisdictions due either to a desire to avoid central cities with high costs of public services and high tax rates, or to a substantial tax base in suburban growth areas created by high-priced housing that requires a lower effective tax rate. Compared with property taxes, insurance costs are relatively small, but as pointed out earlier, insurance costs increased at a faster speed since 1995.
New Home Premium
We have seen that newer homes tend to have lower operating costs measured as a percent of the home's value. This implies that a household with a fixed amount for a down payment and constrained by how much it could pay to own the home during the first year could afford a home with a higher purchase price if the home were newer. How big is this new home premium?
Table 2. Homes that Generate the Same First-Year Cost Based on Year Built

Before
1970

1970-
1979

1980-
1989

1990-
1999

After
1999

House Price

$126,200

$127,660

$130,310

$138,060

$150,000

Downpayment

$30,000

$30,000

$30,000

$30,000

$30,000

Mortgage Rate

6.00%

6.00%

6.00%

6.00%

6.00%

Annual Mortgage Payments

$6,921

$7,026

$7,212

$7,774

$8,634

Marginal Income Tax Rate

0.34

0.34

0.34

0.34

0.34

1st Year Income Tax Savings

$2,462

$1,981

$2,035

$2,192

$2,944

Annual Oper. Cost / Value

3.95%

3.44%

3.27%

2.80%

2.53%

Annual Operating Costs

$4,983

$4,397

$4,260

$3,859

$3,795

Annual Cost (initial year)

$9,442

$9,442

$9,442

$9,442

$9,442
Table 2 provides an example. The table is constructed from the perspective of a potential home buyer with $30,000 for a down payment (enough to avoid paying for mortgage insurance) who intends to finance the balance with a 30-year fixed-rate mortgage at 6 percent. The table shows the prices for homes of different vintages that generate the same annual cost during the first year of ownership, using the cost per dollar of value numbers from Table 1.
The higher-priced, newer homes will have higher monthly mortgage payments, but that will partly be offset by factors such as income tax savings, as mortgage interest and property taxes are generally deductible. Table 1 further assumes that the potential buyer is paying 28 percent federal and the median 6 percent state income tax rates (a 34 percent marginal income tax rate), and has enough deductions to itemize them on the tax return.
Under these conditions, if the household purchased a home built before 1970 for $126,200 it would pay $9,442 to own the home the first year (including the mortgage payment net of tax savings and operating costs). But that same household could buy a new (built after 1999) home for $150,000 and incur exactly the same first-year ownership cost. In that case, the $1713 ($8634-$6921) in lower mortgage payments on a $126,200 home built before 1970 would be perfectly offset by income tax savings and the lower operating costs of the new home. Thus, on the basis of operating costs and tax savings in the initial year, the household could buy a new home priced more than $23,000 above the older one.
It's also possible that, in practice, the newer home would offer the buyer certain advantages, such as the availability of more space or extra amenities, and the prospect of appreciation accumulating on a larger base.
Notes:
[1] Paul Emrath, "Home Vintage and Operating Costs," Housing Economics, November 1997.
[2] Paul Emrath, "Cost of Finance and Taxes for New and Old Homes," Housing Economics, September 1993
---
For more information about this item, please contact Paul Emrath at 800-368-5242 x8449 or via email at pemrath@nahb.org.