TNAH 2013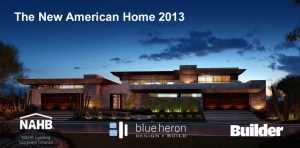 NAHB's New American Home always features the latest in technology and this year is no exception. The 2013 theme was green building in Las Vegas and the builder has found a way to incorporate green technology into the home's design. "This is a certified Green Building Project," according to Tucker Bernard, executive director of the New American Home. "It surpasses all of the green building guidelines and will save about 75 percent of heating and cooling costs compared to a similar house built in the Las Vegas marketplace." Certified "Emerald" Status under the National Green Building Standard as well as boasting a HERS Index of 33, the 2013 New American Home has definitely achieved what it was set out to showcase!
The 2013 New American Home is in Marquis Seven Hills development, the desert-contemporary will back onto the Rio Secco Golf course, one of Las Vegas' most challenging courses. Plans call for the home to be less than 6,000 square feet, with a special emphasis on spectacular water features.
Blue Heron, builder of the highly acclaimed TNAH 2009, is one of Las Vegas most successful residential builders. The company is committed to home building that is environmentally sensitive and ecologically smart. That commitment affects many decisions, including site selection, to energy efficiency, passive solar design and building materials, as well as long-term perspectives on regional and community development.