Digital Advertising
OCCC Digital Network
Advertising on the ever-present OCCC's digital network gets your images on 18 screens all around the Convention Center. 2017 Digital network advertisers averaged more than 8,000 plays during the week of the Show.
Promotional Investment:
$4,250 per spot (8 seconds)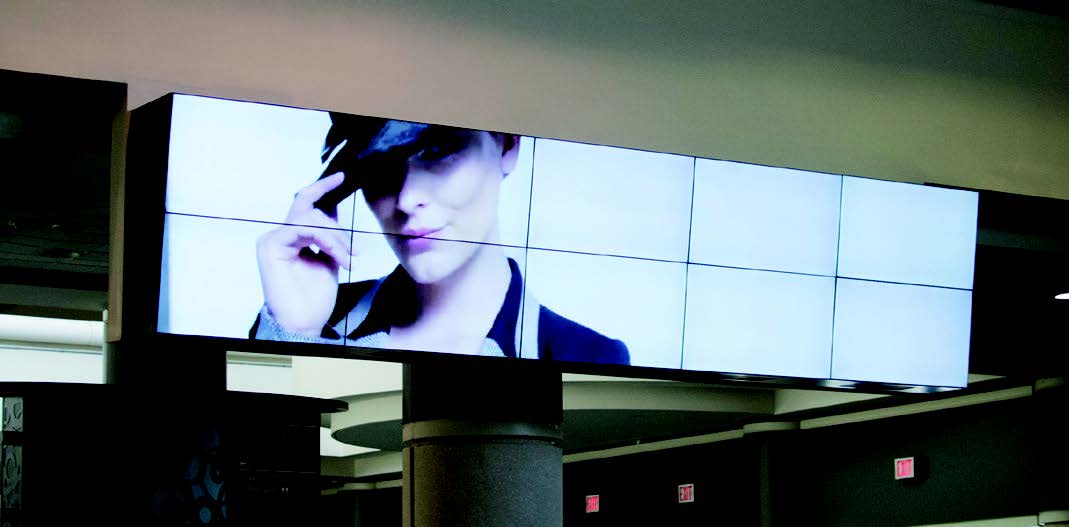 ---
IBS Mobile App
The 2017 IBS Mobile App had more than 1.25MM page views, which is 25% more than the year before. The IBS audience downloaded the IBS App more than 12,000 times (20% increase year-over-year). Clearly mobile app marketing is on the rise—this could be just what you are looking for to push your booth over the top!
Promotional Investment:
$1,000 to $20,000 (limited number of spots available, some SOLD OUT)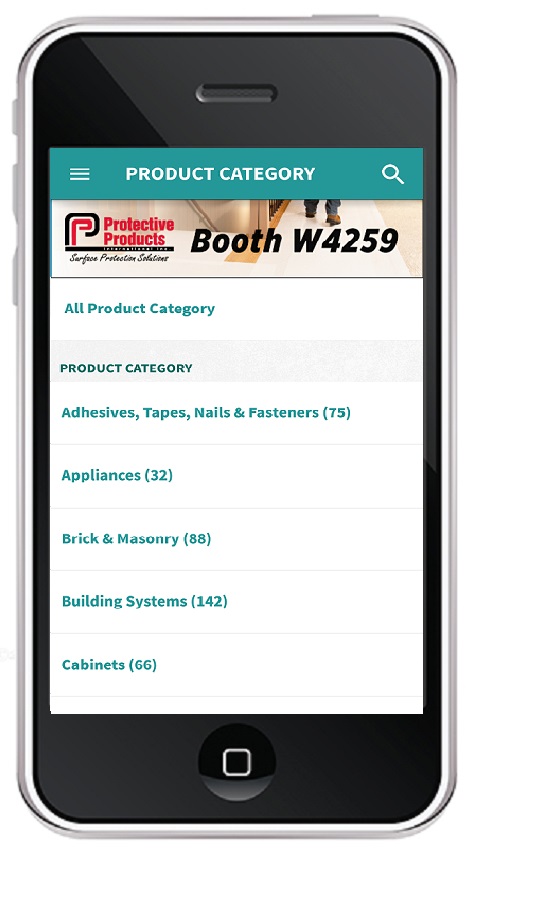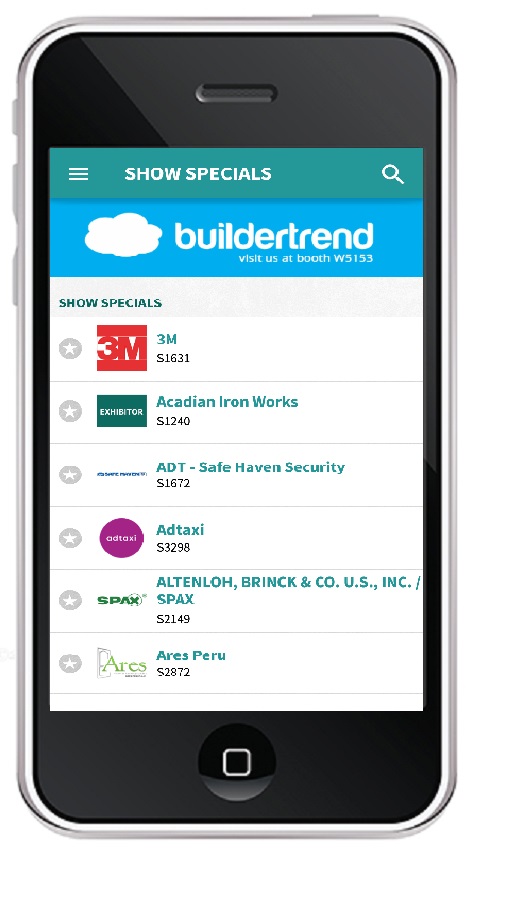 ---
IBS Product Email
The IBS Product Email is only sent to IBS attendees. It goes out three times before the Show and one time post-Show. Last year, NAHB sent more than 111,000 emails to an audience of IBS attendees. The open rate averaged 37% with a 7.5% click through rate. IBS Product Emails start being sent in December 2017.
Promotional Investment:
$5,000 for fixed first position
$4,750 for fixed second position
$4,500 for fixed third position
$4,250 for fixed fourth position
$3,750 for a standard rotating position
$2,000 for a standard position in one email newsletter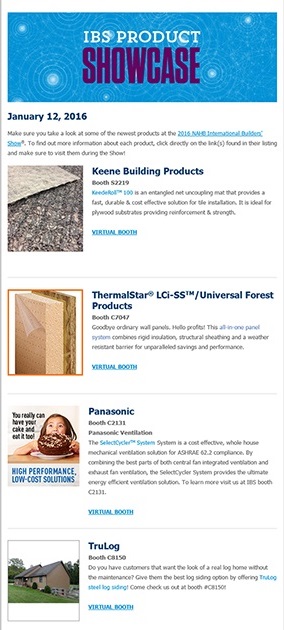 ---
"IBS Alert" Email Announcements
NAHB sends out multiple IBS Alerts before the Show. The Alerts announce a recent development or can promote highlights of the upcoming Show. On average, each IBS Alert goes out to more than 22,000 registered attendees and in 2017 they averaged 39% open rate and 16% click through rate. 2018 IBS Alerts start going out in November of 2017.
Promotional Investment:
$4,000 each (limited number available)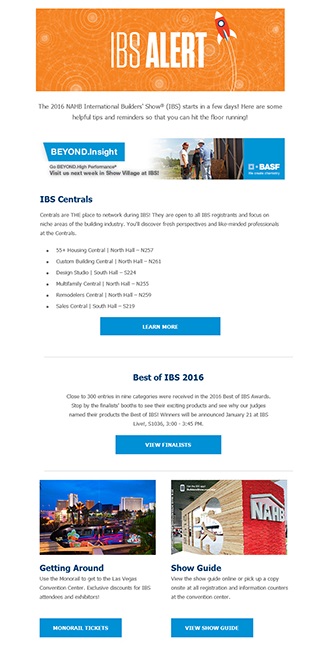 ---
IBS Show Daily Highlights Email
Each day of the Show we send out an email that promotes the daily highlights of the Show. You'll be able to place the only advertisement into the middle of the daily email. Based on last year—you should expect to reach more than 35,000 IBS attendees each day, with an average open rate of 38% and click-thru rate of 15%.
Promotional Investment:
$4,000 per Show day (only one per day, exclusive advertisement)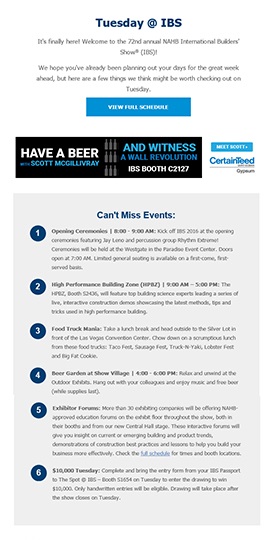 ---
IBS Show Daily Exhibitor Highlights Email
Each show day we will send out an email containing messages from a maximum of six exhibitors. The message can include both a photo and brief text description. Ideal for promoting product launches, celebrity appearances and other in booth activities. Last year we sent more than 30,000 daily on the first two days of the Show with an open rate of 33% and a click through rate of 6%.
Promotional Investment:
$1,750 each, limited to six per email, per day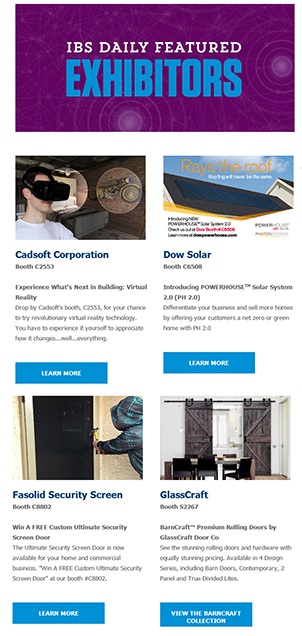 ---
Targeted IBS Registration Email Confirmation
Reach attendees from your targeted audience at the 2018 IBS by including a large banner advertisement in the confirmation email that is sent immediately after someone registers online. Your ad is sent to the groups you specify, thus customizing your marketing reach. The following IBS registrant groups are offered:
Custom Builders $3,500
Dealers/Distributors (Wholesale & Retail) $3,000
Remodelers $2,000
Architects/Designers/Engineers $1,500
Multifamily Builders $1,250
Sales & Marketing Professionals $1,250
55+ Builders $1,250
---
BuildersShow.com Home Page Ads
This is the largest image that appears on the BuildersShow.com home page. No more than five images will rotate through this area. Two of the five spots are reserved for advertisements (positions #2 and #4).
Promotional Investment:
$10,000 for position #2
$8,000 for position #4
---
Site Search Sponsorship
Your company name will be built into the IBS website search box and you will have an advertisement that shows up on all of the search results pages leading to tens of thousands of impressions.
Promotional Investment:
$10,000
---
Featured Exhibitors & Premium Online Listing
Includes three valuable benefits to your online company listing:
• Featured exhibitor advertisement on the IBS Home Page (rotating listing)
• Priority positioning in website search results
• Video and graphics upgrade to online company listing (two videos + up to five images)
Promotional Investment:
$2,500 each (limited availability)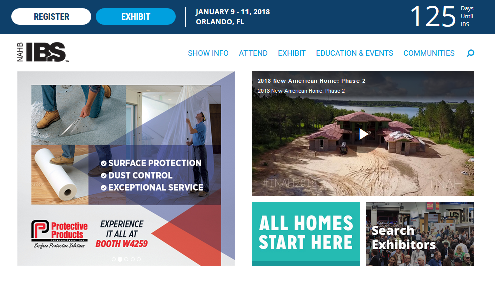 ---
IBS Product Spotlight
Filming a product in your booth has never been easier or more affordable. The award-winning NAHB Media group will film a 60-second product spot in your booth, with super-host Tracy Locke interviewing your staff. Your company can receive the video after the Show is over. Space limited to three each on Jan. 9 and 10.
Promotional Investment:
$4,500 per product spot
$5,750 for product spot that also runs on IBStv during the Show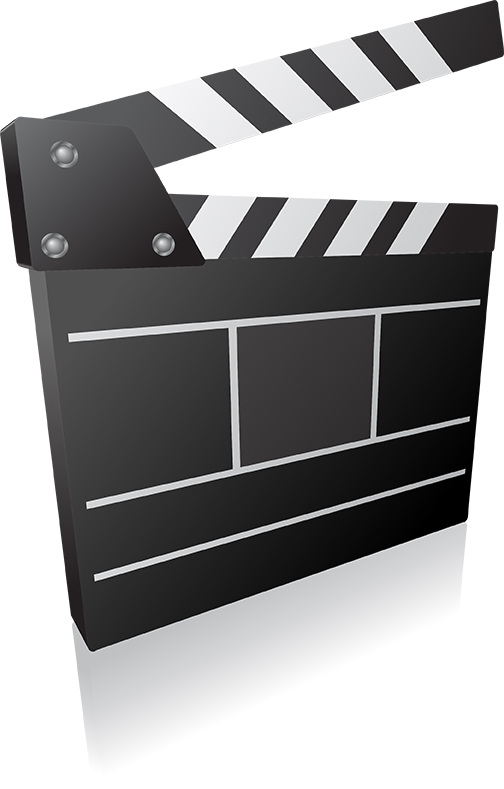 ---
IBS Booth Video
Sign up to have NAHB Media shoot your booth for a mere fraction of what an outside vendor would charge. NAHB Media will make a fully edited and produced video approximately 2-3 minutes in length when finished. Anything in your booth can be filmed. The final edited version would be sent to you for your unlimited usage.
Promotional Investment:
$6,500 per 2-3 minute video