Best 55+ Multifamily Community
Winner
Watermere at Frisco

Project Location: Frisco, Texas
Photographer: Robert Germany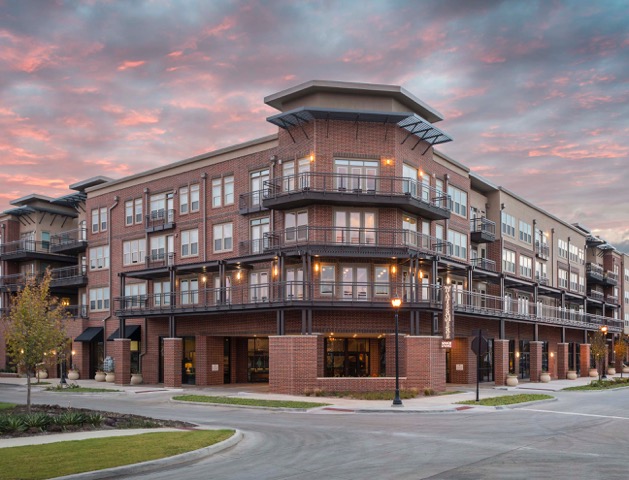 View more in the Photo Gallery

Project Information:
Developer: Integrated Real Estate Group
Architect: ARRIVE Architecture Group
Interior Design: Henderson Design Studio
Marketing Firm: N/A
Project Website
Company Website
Project Statement:
"Wow, I could live here" are words most frequently said about this project. Opened 2017, this 356 residence community is a huge success. The campus consists of two buildings, Independent Living and Assisted Living & Memory Care in a New Urbanist community in Frisco, Texas. Frisco has topped the list for fastest growing cities in the Country, welcoming the likes of Toyota and the Dallas Cowboys. With a site just over four acres, the project is undeniably urban, outwardly focused placing the buildings along the community focal point canals and featured street walk ups. The two main entrance covered porticos are hidden from view from the street, along with parking. Each building features a variety of outdoor spaces for residents. From large over-sized unit balconies to dozens of covered outdoor terraces, the project encourages and promotes being outdoors. The Independent Living building contains two elevated roof decks over the parking garages. Additionally that building is split in two, to open three ground level courtyard spaces to the street; which include a movie lawn and covered pool. Perhaps the most dramatic innovation of this community is the total rethinking of the common areas for these types of buildings. The community features open flowing spaces that serve three to four functions each. Each space is linked visually to the next and all are linked to the exterior. Resulting in an elegant, inviting, comfortable community where residents want to use the common spaces. Integration with the overall community has been raved about here. Residents love the walks, the families that stop by to say hi and the feeling of being part of something bigger. The street facing amenities of each building house general public use spaces like the Salon, Physical Therapy and Coffee shop all encouraging the local community to stop by.