Best Student Housing Rental Apartment Community
Winner
The Summit at University City

Project Location: Philadelphia, Pa.
Photographer: Images by Johnny Stevens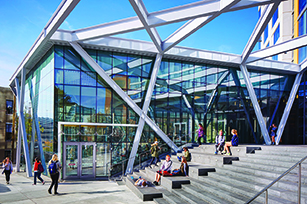 View more in the Photo Gallery

Project Information:
Developer: American Campus Communities
Architect: Solomon Cordwell Buenz
Interior Design: Sixthriver Architects
Marketing Firm: N/A
Project Website
Company Website
Project Statement:
In fall 2015, American Campus Communities and Drexel University opened The Summit at University City, a 24-story, $156 million high-rise tower featuring 1,315 student beds in 350 units and more than 40,000 square feet of mixed-use retail and dining space. This preeminent student housing community features abundant amenities focused on students? academic success with modern student accommodations, and has transformed both the campus edge and the on-campus housing experience at Drexel. Designed to attract students back to campus, the development embraces its location as a nexus between the academic, commercial and residential dynamics. The main entrance and dining facility extend toward campus into a mid-block plaza and serve as a bold, glass beacon inviting the campus community. Materials on the high-rise portion are precast and captured glass supported on-slab ? reflecting the urban nature of downtown and the limestone character of campus. The Lancaster Avenue elevation, which serves to transition to a lower-density neighborhood, features heights of eight- and ultimately five-stories with a brick exterior consistent with the neighborhood. Ground-floor, glass-front retail spaces reinforce the neighborhood experience by providing residents and city dwellers with access to marquee national retailers including Starbucks and Chipotle. Single- and double-occupancy floor plans offer residents a range of living options and price points. Double-occupancy units, a central part of Drexel?s residence life program, were specifically designed to offer enhanced privacy with half-walls between beds, dual vanity sinks, and individual closets and individual compartments for bath and toilet. Units feature granite countertops, stainless steel appliances, hardwood-style flooring, walk-in closets and leather-style furniture. A 24th-floor community sky lounge provides study spaces with sweeping views of Philadelphia. In addition to a large amenity package, the property also features a generous academic success center, which allows students multiple options for group and individual study with ultimate connectivity and presentation options.