Best Mid-Rise Apartment Community (6 to 9 stories)
Finalist
The Pierce

Project Location: San Jose, Calif.
Photographer: Chet Frohlich Photography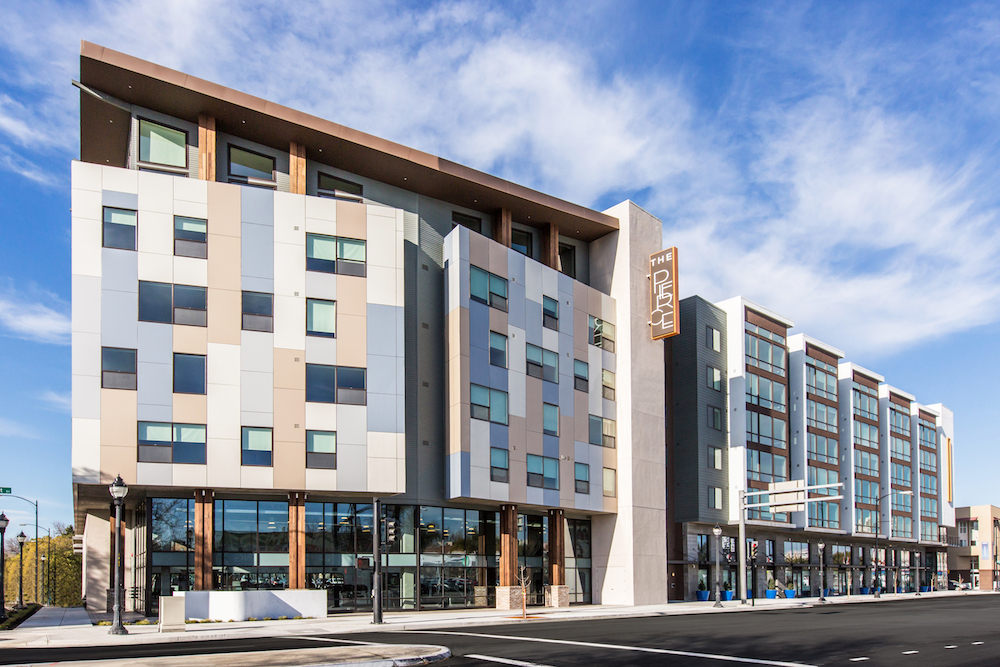 View more in the Photo Gallery

Project Information:
Developer: Sares Regis Group
Architect: Steinberg Architects
Interior Design: CDC Designs
Marketing Firm: P11 Creative
Project Website
Company Website
Project Statement:
Steps away from restaurants, entertainment, museums, and a commuter rail station, The Pierce is a 232-unit, mixed-used, luxury apartment community that brings momentum to the emerging South-of-First area (SoFa) arts district in San Jose, Calif. The Pierce attracts young urban professionals, especially those working in the vibrant Silicon Valley technology sector or interested in cultivating a lifestyle enriched with art and cosmopolitan aesthetics, the draw of a reborn SoFa district. The Pierce consists of five floors of studio, one-, and two-bedroom apartments featuring high-end finishes above two levels of parking. Residents enjoy a spacious courtyard, pool, and top-of-the-line fitness center. The building's multifaceted architectural style features a textured, contemporary design that incorporates traditional elements reflective of the established single-family homes in the surrounding neighborhood, such as repurposed brick and timber from previous buildings. One street facade terraces down from eight to five stories, graded to blend with neighboring homes. Simultaneously, The Pierce?s modern, window-filled main facade seamlessly encapsulates the authentic technological and cultural energy of San Jose, an area replete with cultural vibrancy, situated within the world's high-tech epicenter. The Pierce's lobby serves as an art gallery, with exhibits rotating every three months. Local art is abundant throughout the building: in hallways, lobbies, and the leasing gallery. To anchor itself within the arts district, The Pierce's lobby-gallery is open to both residents and the public during SoFa's "first Friday" events each month, which offer a space for community gathering as well as promote local artists, who are often on hand to engage with residents and guests. In less than a year, The Pierce obtained a steady lease-up and promising occupancy rate and established a well-known presence in the community due to its commitment to promoting the artistic flavor for which the SoFa district is known.