Best Garden Apartment Community (4 stories or less)
Winner
The Flats at Big Tex

Project Location: San Antonio, Texas
Photographer: Sean Gallagher, Jason RIsner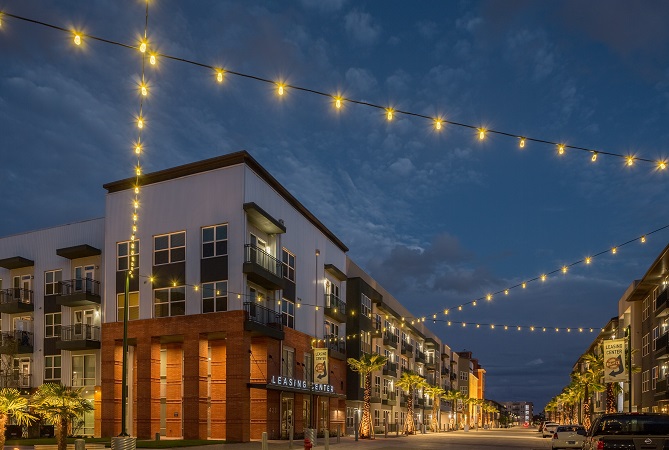 View more in the Photo Gallery

Project Information:
Developer: The NRP Group; Lifshutz Companies
Architect: Alamo Architects
Interior Design: David Hawkins Design
Marketing Firm: GilesParscale
Project Website
Company Website
Project Statement:
These buildings were constructed around a preserved grain elevator from the long-abandoned Big Tex Granary dating from 1917, keeping with the local design trend incorporating historical industrial buildings and fixtures into modern developments. The City of San Antonio provided an impressive incentive package, including a 10-year tax abatement and a $1.2 million grant from the city's inner-city incentive fund. The property is overpowering its competition by getting the highest rents in the area. Growth in this area was sparked by the completion of the Mission Reach section of the River Walk in 2013, transforming that stretch of the San Antonio River from a drainage channel into a destination for cyclists and joggers: a $58 million complex and part of the revitalization of San Antonio's Southtown where three unique areas unite: The King William Historic District, Blue Star Arts Complex and Lavaca, San Antonio's oldest existing neighborhood. Once a blighted industrial area, it is now one of the biggest growth corridors near downtown San Antonio where residents are drawn for its artsy, historic and eclectic vibe. The goal in developing and designing Big Tex was to give it an authentic feel, linking it to the art scene at the nearby Blue Star Arts Complex and connecting it to every aspect of the River Walk. Two Johnny Hernandez restaurants located in adjacent retail space provide an additional benefit for residents. NRP worked closely with the Environmental Protection Agency to remove 2,000 tons of contaminated soil before the project could begin. In marketing the property, a custom-made Airstream was used as a mobile leasing office, and events were booked to target millennials throughout the city.